Rui Salgado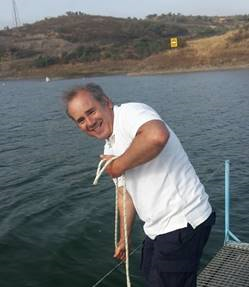 Institute of Earth Sciences – University of Évora Pole
Email: rsal@uevora.pt
Ph.D. in Physics, University of Évora, Portugal, 2006.
Associate Professor with Habilitation, Physics Department, School of Sciences and Technology, University of Évora, since 2006.
Scientific coordinator of the ALEX2014 project and field campaigns, University of Évora.
Member of Meso-NH Steering Committee.
Member of the direction (2010-2012) and president of the General Assembly Table (desde 2012) of the Portuguese Association of Meteorology and Geophysics (APMG).
Scientific Interests:         
Atmospheric modelling; Atmospheric boundary layer; surface-atmosphere interactions; meteorological observation.
Curriculum Vitae (online):   
https://www.mdpi.com/journal/atmosphere/special_issues/interaction